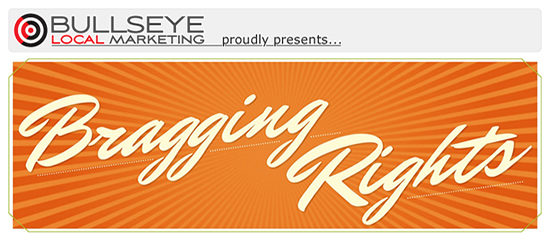 | | |
| --- | --- |
| | We don't mean to brag... but we're gonna! (it's okay- we earned it) |

Take a look at what some of our happy
clients had to say about us:

Peter's service has already been a success for my criminal defense practice. I'm just 2 weeks in and have already retained new clients. Peter is also great to work with and provides instant feedback.

-David Demers

I have been using Peter since October 2016. I started on the first tier, and as the leads started rolling in, I fired the other company I was using and increased my ad spend with Bullseye to their top tier. Right now Peter's service is my primary source of leads, and results in about 8-10 sales per month. Mainly because I am very picky on my client selection- I do turn away clients. But generally the leads from Bullseye are spot on and qualified. I highly recommend Peter and his team, unless of course you are competing against me. ;)

-Sam Mansoor

I have been working with Peter for over 8 months. I can tell you that his service is well worth the money. Furthermore, Peter is extremely honest and straightforward with what he says he can do and in answering any questions or concerns I may have. It is very comforting to contact Peter with a question, comment or request and get a response with a few hours at most- often within a few minutes. I heartily recommend Peter and Bullseye Local Marketing to anyone interested in growing their business.

-Ernest Lee
Peter you have saved me so much time. Your marketing gets me in front of motivated sellers of privately owned businesses. Before I started working with you I was using a telemarketing service that was producing "leads" of non-motivated sellers that were a waste of my time. Thank you Peter!

-John Hornblower
I absolutely love the page you've made for our business, and although the campaign has just started it has already paid for itself. If this continues to bring in clients like this we'll be doing business together for a long time to come.

-Scott Wheeler
Peter has been able to produce real live calls from motivated clients where others have produced no results at all. I am looking forward to a long and prosperous business relationship with Peter.

-Abel Pierre

It is with great pleasure that I write about my experiences with bullseye local marketing. From the beginning, you guys took the time to get to know my business and then designed my promotional page that best presented my company. You also followed up with me to make sure I was utilizing the features to their fullest, which has aleady generated new clients for us. Thank you so much for your professionalism and support.

-Joe Barimo
In a month's time we've received a steady stream of calls from your marketing, and a great number of sales from those calls. So far your company and marketing product has been a great experience for us. Keep up the good work & God bless.

-Gay Woodruff
My wife and I love the web page! Not only is it awesome, but in the first few weeks it's already covered our cost for the next couple of months. We have never had such a great return on our advertising- thanks again!

-Scott Cooksey
Just a quick line to say thanks for the quality work, and thanks for getting us online so quickly. We love the page you made for us, and are looking forward to a long relationship with your company. It's so nice to do business with a company that really does deliver what they say...

-Robert Sims
Wow- great job! We love the job you guys did creating our company image. We're very excited and looking forward to long term results!

-Dan Nelson
I don't know how your company does it, but we're getting calls all through the week from your marketing. I'm hoping that in the near future we'll be talking about increasing the marketing and expanding our business. Thanks for the great work & keep it up!

-Candy Armstrong
© Bullseye Local Marketing, Inc.