| | |
| --- | --- |
| | Welcome to Zadie's of the Oranges - quality care since 1994 |

Something special in childcare
We understand the importance of the decision you are faced with making for your child, but rest assured you have come to the right place - a very special place. Our mission is to provide the highest quality childcare in a nurturing, inspiring and academically stimulating environment. In that same spirit, we only employ and retain the highest caliber caregivers and teachers who love' respect and value the learning process for our children.
Quality family childcare since 1994
Zadie's is run by a mother and daughter team, Zadie and Winifred Smith. Since 1994, Zadie's has provided the highest quality childcare for working parents in Summit, NJ and surrounding areas. Zadie's has a phenomenal reputation for providing a nurturing and safe environment, and for training and retaining highly qualified caregivers and teachers. Zadie's works diligently everyday to ensure that we are successfully meeting each child's individual needs.
We invite you to join our family
We also understand the needs of the working parent. We have successfully formulated a program designed to nurture both your childcare and family needs. When you enroll at Zadie's, you are not only enrolling your child in the best private childcare program in the state of New Jersey, you are also becoming a part of an extended family. You will feel an overwhelming sense of satisfaction and confidence when you say "Bye, See You Later" to your little one at Zadie's.
One goal
Our goal is to develop your 'little ones' into self-confident and self-expressive beings who excel in mastering the basic academic skills needed to achieve life's success.

| | |
| --- | --- |
| | A higher level of quality childcare |

We are committed to delivering the highest quality childcare. We ensure that:
| | |
| --- | --- |
| | Staff members receive training in CPR and First Aid |
| | Teacher/Caregiver to child ratios exceed state requirements |
| | We are serving nutritiously prepared meals for breakfast, lunch and afternoon snack |
| | We are providing extended hours of care for those unexpected last minute work related issues |
| | Parents have availability of secure internet viewing providing peace of mind as their child transitions into this very nurturing environment |
| | We continue to develop and deliver academically challenging curricula emphasizing real world analytical skills |
Accepting children ages 6 weeks to 6 years
We believe that the period of 6 weeks to 6 years old provides the absolute best time for developing excellent learning and motor skills. Additionally, we believe that children may not always remember what they hear, but they remember how they were made to feel. At Zadie's, we are committed to making children feel good about themselves. We help children understand that they are valued, and we make each child feel special every day.
| | |
| --- | --- |
| | A few images of our facility: |

Contact us for more information or to schedule a

tour of our facility

We invite you to visit Zadie's of the Oranges and see firsthand this special nurturing environment in which our children learn, grow and excel. Contact us today to schedule a tour of our facility.

| | |
| --- | --- |
| | Our location & hours |
141 S. Harrison Street
East Orange, NJ 07018
Our hours of operation are:
Mon. - Fri. 7:00am - 6:30pm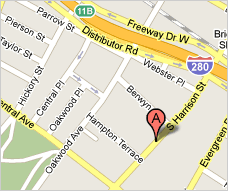 Need directions?
Give us a call at 973-419-5853